Tammy & Kartik's wedding was a complete curveball for us in so many ways. Firstly, we had never experienced a bride & groom planning their wedding location based on the carbon footprint of the flight paths they and their guests would take while coming in from all around the world. Secondly, it was a wedding with just the two of us - Ekta on photo (mostly), and me on video (mostly). Thirdly, Tammy & Kartik got married thrice in three days! The first day, they had a surprise Parsi ceremony, which Ekta and I attended as guests. The second day, it was the Sofreh Aghd and then the Hindu wedding ceremony took place on the third day.
All of this happened at The Taj Vivanta, located on the Rebak Islands in Malaysia. There was so much happening in this wedding, which was so offbeat and interesting, that it deserves to be told as a story, mixing text and photographs, and of course the wedding film which is right at the end.
So here goes. Scroll on to watch and read what happened! We start with the photo story, and conclude with the wedding film.
The Photo Story
Day One - The Parsi Wedding
Post the Parsi wedding ceremony which Ekta and I attended as Tammy & Kartik's guests, we thought we should do a nice family portrait because everyone looked so happy and nice. Tammy thought she would get a few pictures with her nieces and nephew - however they weren't too keen!
We then took Tammy & Kartik aside for some casual portraits. We decided to put the garlands they had to good use, asking them to play a game of varmala hoops! At the end, the scores were drawn.
Day Two - The Sofreh Aghd
It is the morning of day two. This a completely self-planned wedding. Tammy begins with a final check on the agenda for the day.
In the meantime, Kartik is chilling in the pool
Just before they start getting ready as bride & groom, Tammy & Kartik are preparing a surprise performance for their guests during their first dance. The plan is to interrupt the first dance with songs like 'Cuban Pete' from The Mask and 'It's not Unusual' by Tom Jones, where both Tammy & Kartik will begin to dance like Jim Carrey & Carlton (from 'The Fresh Prince of Bel Air'). Here, Kartik is looking inside his phone and trying to get the steps right, while Tammy does a google search for the next song.
Kartik's brother-in-law helps him iron his shirt, as Tammy's mom plants a kiss on her cheek.
Tammy has decided to prank Kartik during the first look, where Zal - one of Kartik's closest friends- will be dressed as a bride and will meet him when Kartik is expecting Tammy instead. Here, Tammy's bridesmaid puts the finishing touch on Zal, who was a huge sport to agree to this!
Tammy calms her nerves before the ceremony.
One of the key reasons this prank went off so smoothly is that the audience, who could clearly see Zal dressed as a bride, held their laughter and made sure Kartik had no clue about what was about to happen. And this was in spite of not knowing about the prank themselves.
Time for the real bride to now make her stunning entry. Tammy's niece and nephew make everyone go 'awww' as they walk down the aisle.
Much to Kartik's relief, it was really Tammy walking down the aisle the second time. And she looked like an absolute dream.
The first dance prank goes off exactly as planned - Tammy & Kartik do a fabulous job of acting like they have no clue about why the music is being interrupted before bursting into their dance routines.
It is time for the toasts, which are somehow managed in the middle of what seems like a hundred kids continuously running around!
Day Three - The Hindu Wedding
Life on an island begins slowly. This stays true on day three of Tammy & Kartik's wedding, as the morning rolls around. However, this is the lull before the storm. We had no idea of the craziness that was in store for us. Neither Tammy nor Kartik had an inkling of how their estimated timelines were going to go completely awry, thanks to a little something that happened during the Baraat.
This bride & groom were absolutely clear that all their friends should be dressed casually (read: beachwear) for their Baraat. So it all begins as a massive party on the beach, and the drinks are flowing.
Now, this is the point where something very interesting AND TOTALLY UNEXPECTED happens. Tammy, in her full bridal lehenga, sits down on the beach in the sand. Then her bridal party demands that Kartik hand over his shoes - they say that the baraat will only proceed when they get the shoes.
Usually in Hindu wedding ceremonies, the bridal party steals the grooms shoes during the wedding vows. In this case, not only are they stalling the baraat asking for the shoes, but also claim that Kartik will have to pay them to get his shoes back at the end of the ceremony.
This causes a complete standoff. The wedding ceremony is planned for sunset, but there is no way that's going to happen. Tammy just patiently sits there as some of the baraatis dance, and representatives from both sides start negotiating. Then suddenly, Tammy's mum Zeenia faints and falls in her daughter's lap. But read on, the story hasn't ended yet.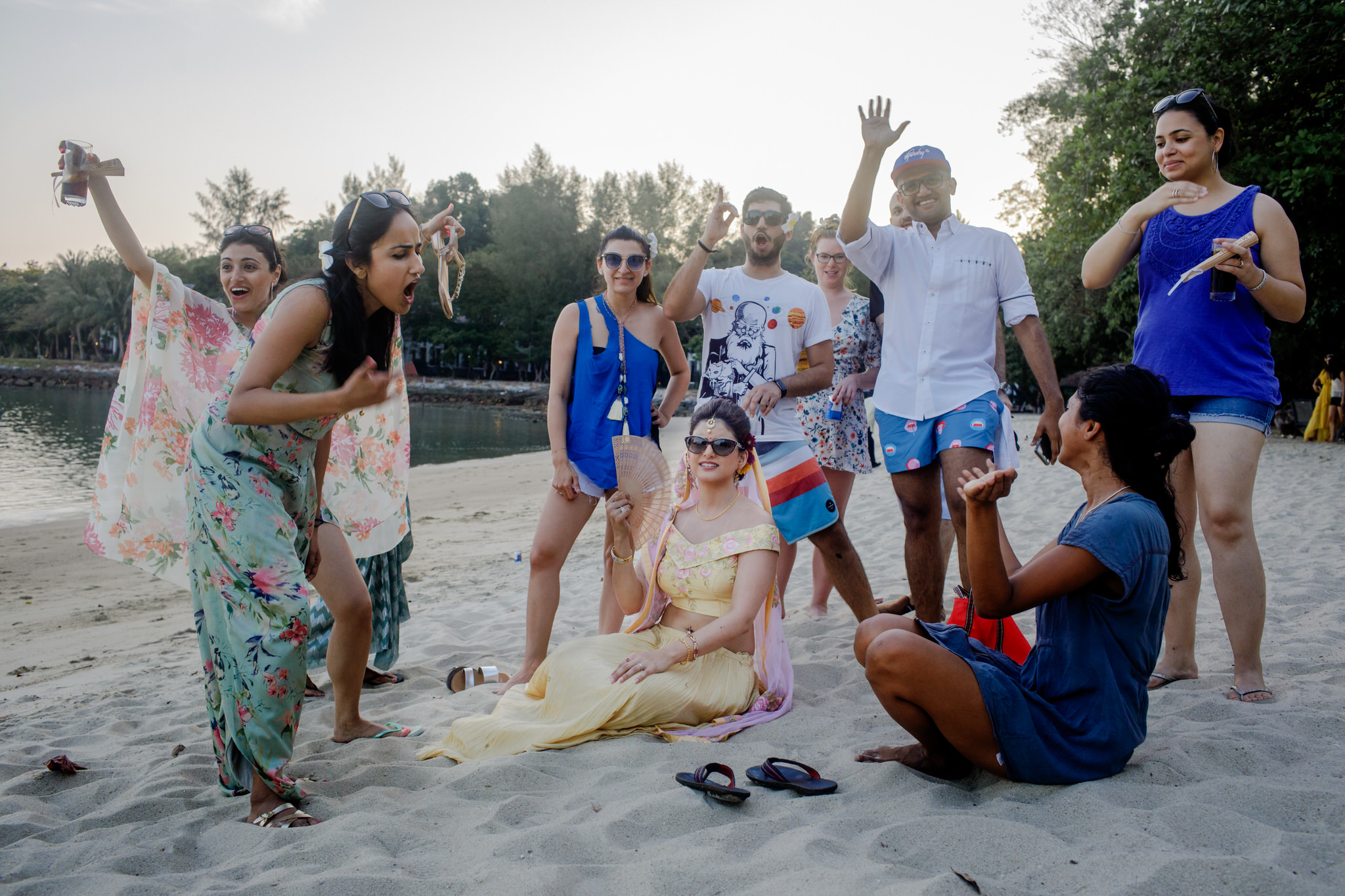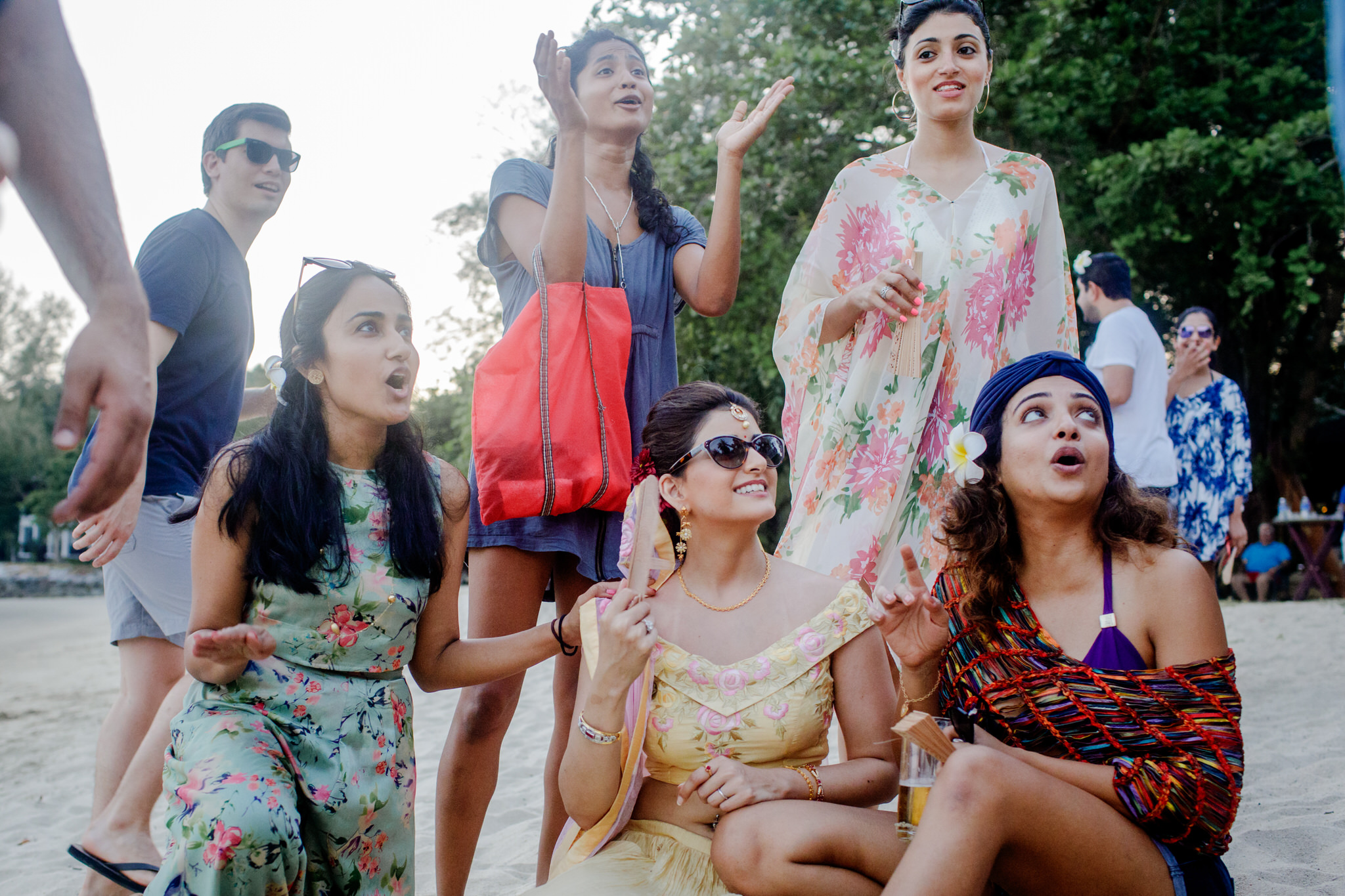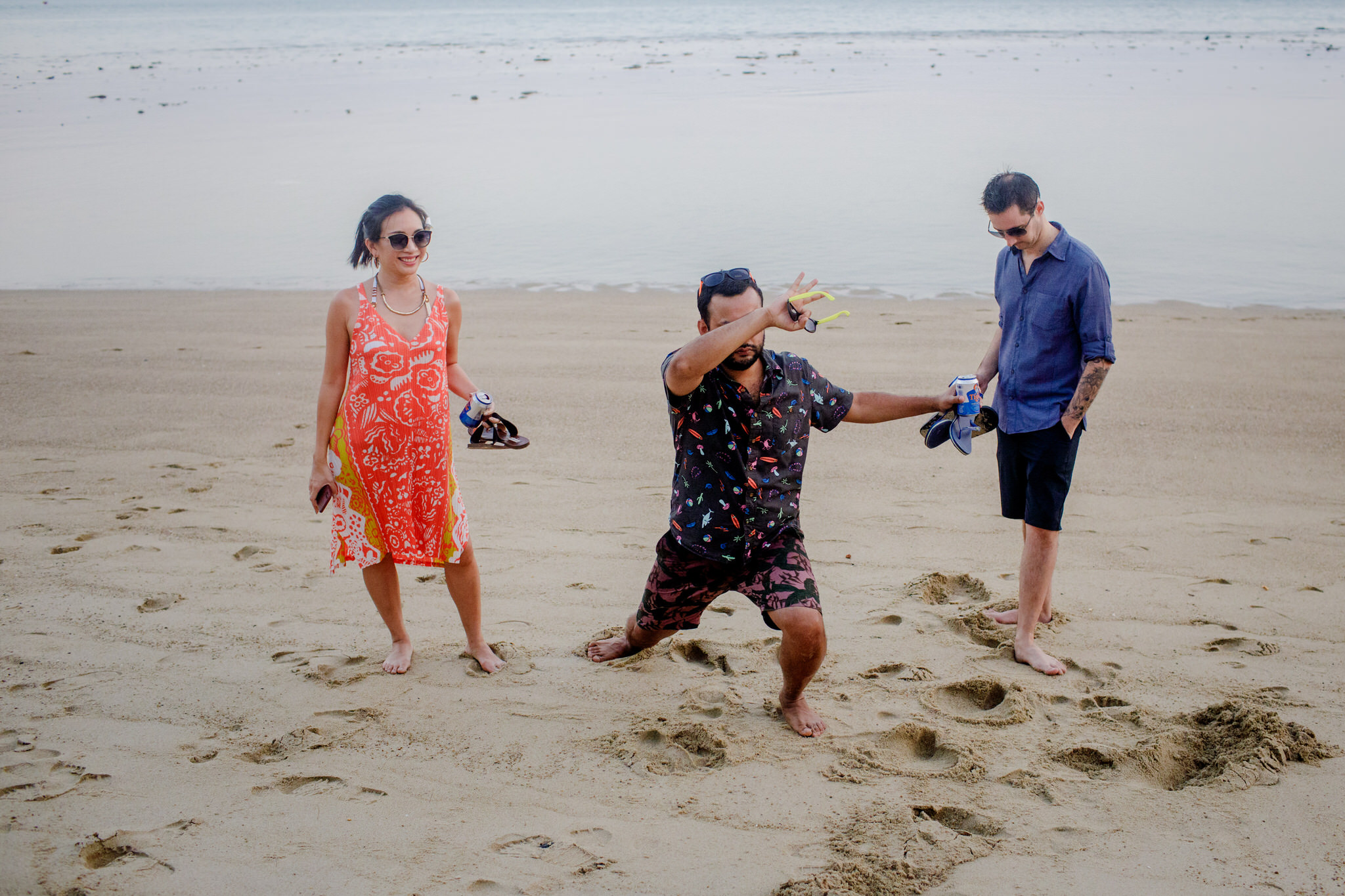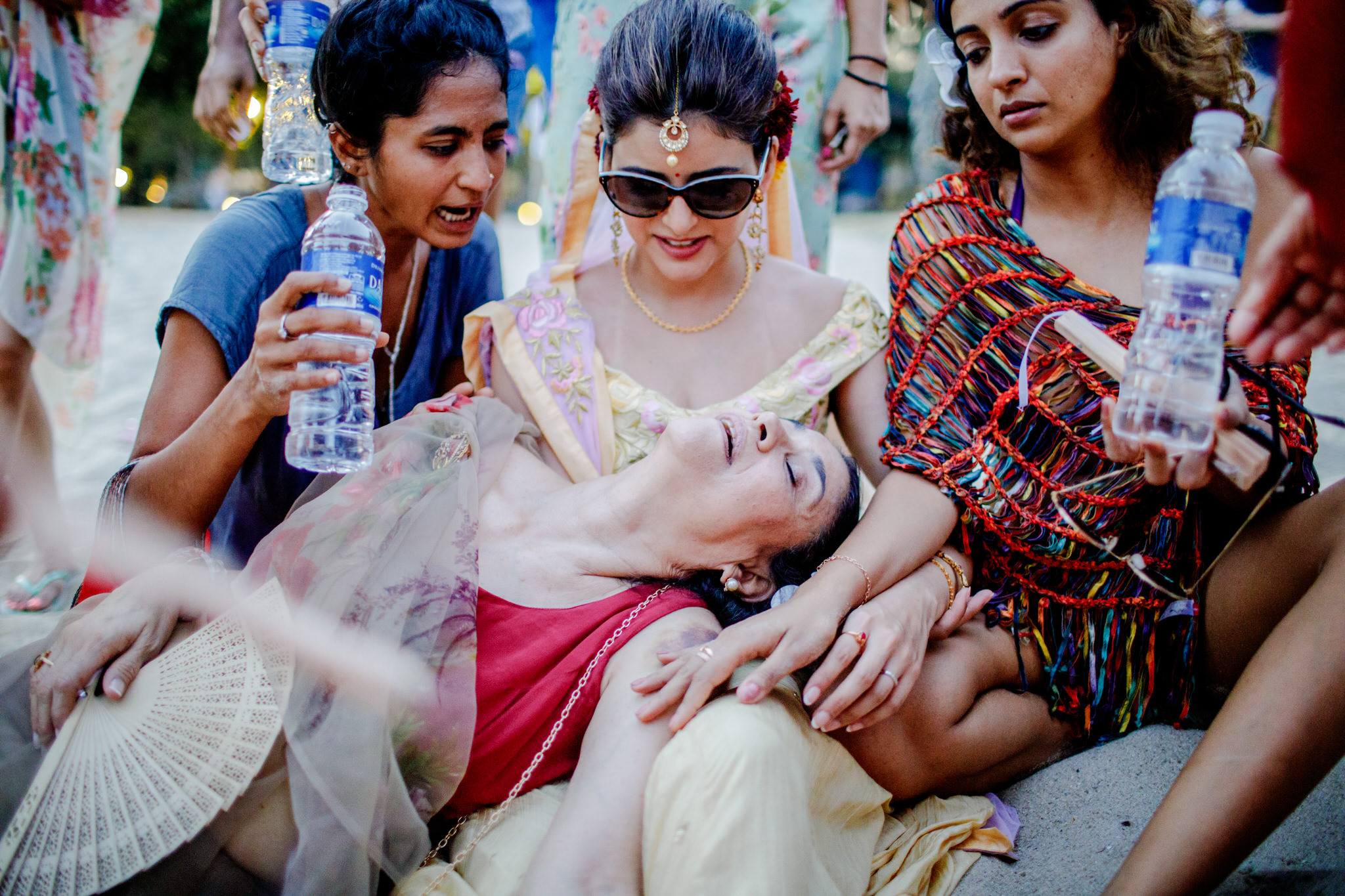 Everyone panics. But it eventually turns out that Zeenia aunty was pranking all of us (except Tammy, who she had winked to in advance), and her fainting act was to make sure that the baraat hurries up. This is turning out to be a wedding unlike any other we have shot, or even heard of!
Finally, Tammy gets Kartik's shoes and the baraat moves ahead. The wedding ceremony happens at night, with just immediate family in attendance. In the meantime, the friends are preparing for the sangeet celebrations to be held later that night.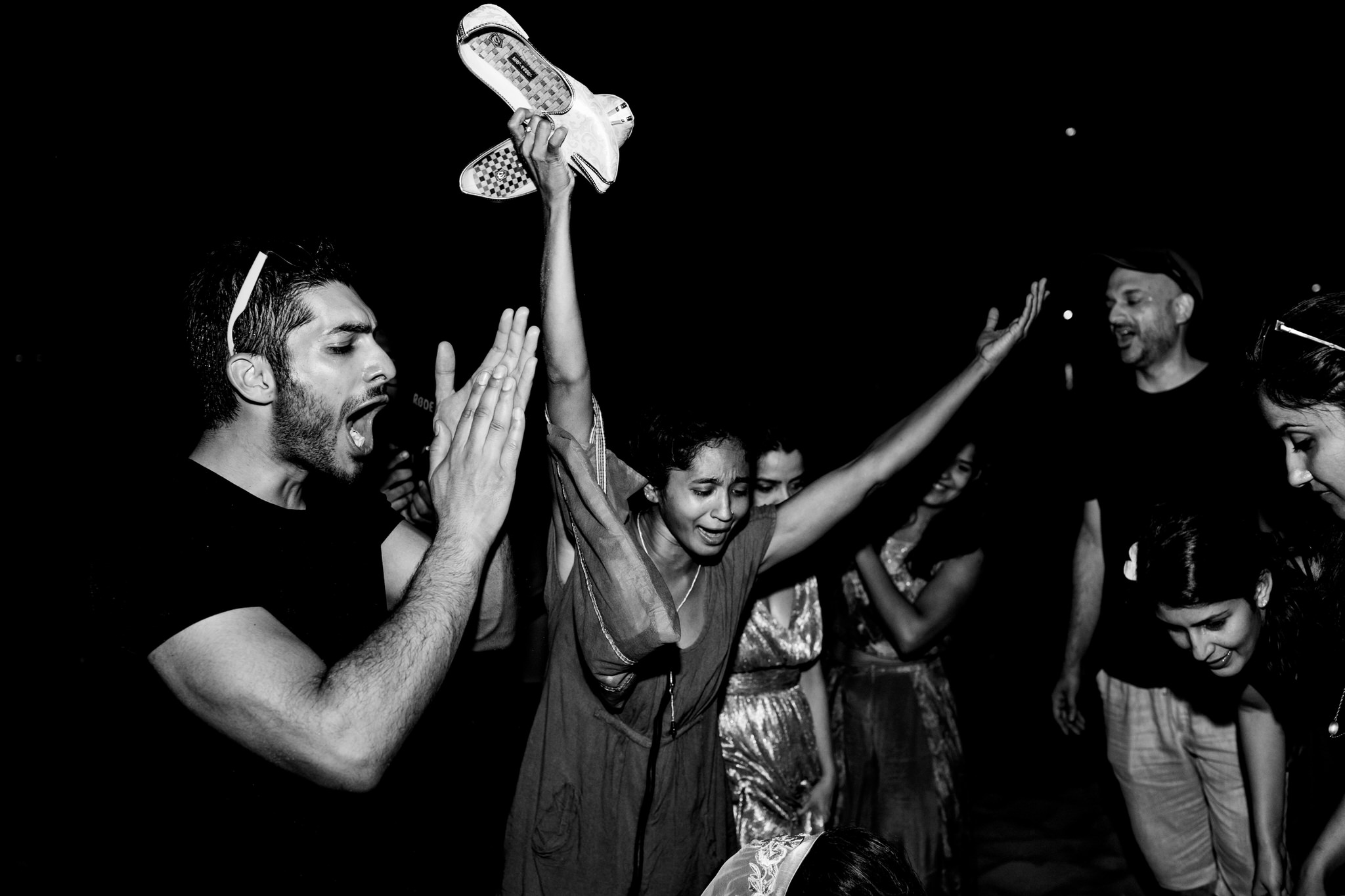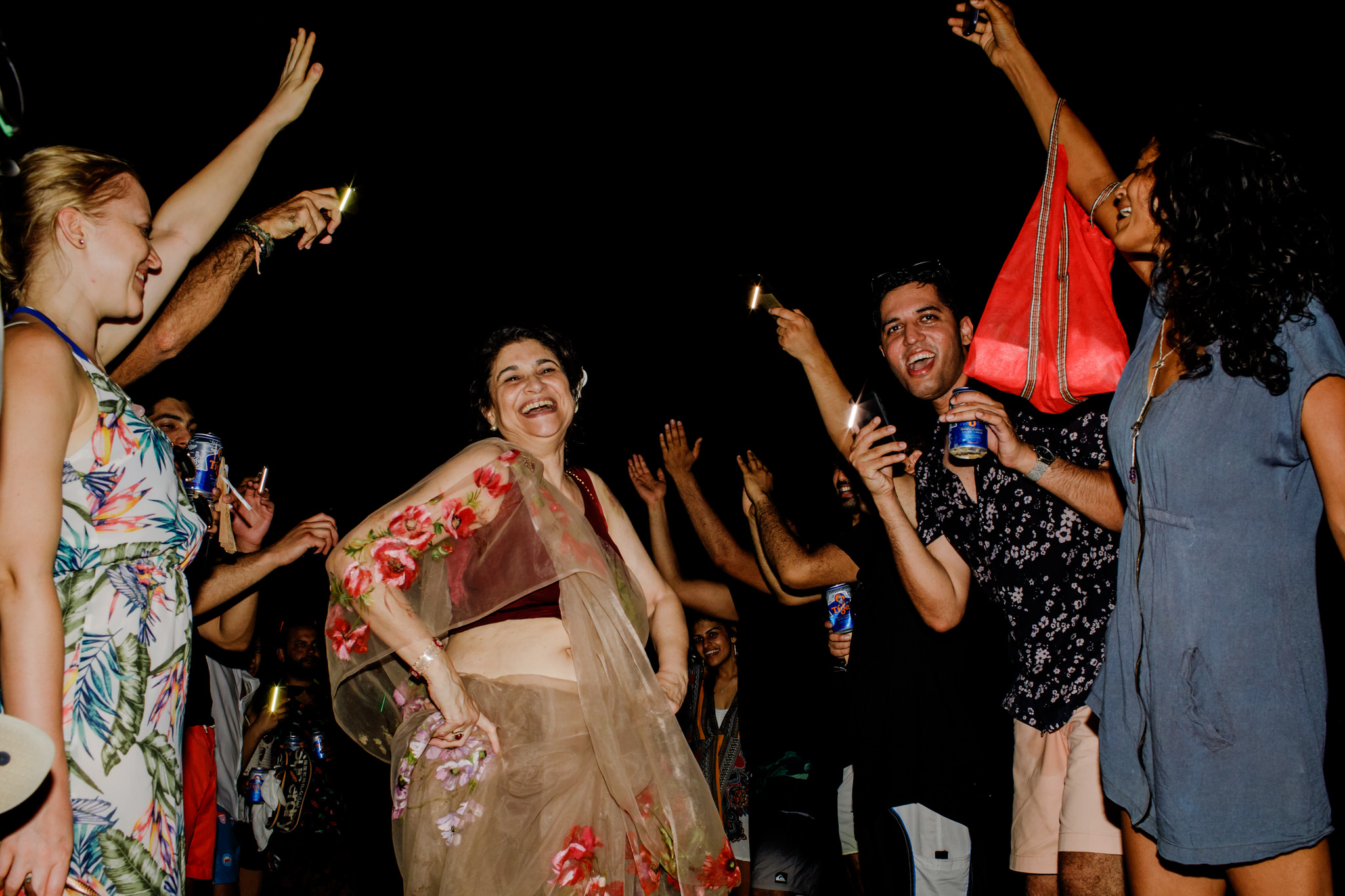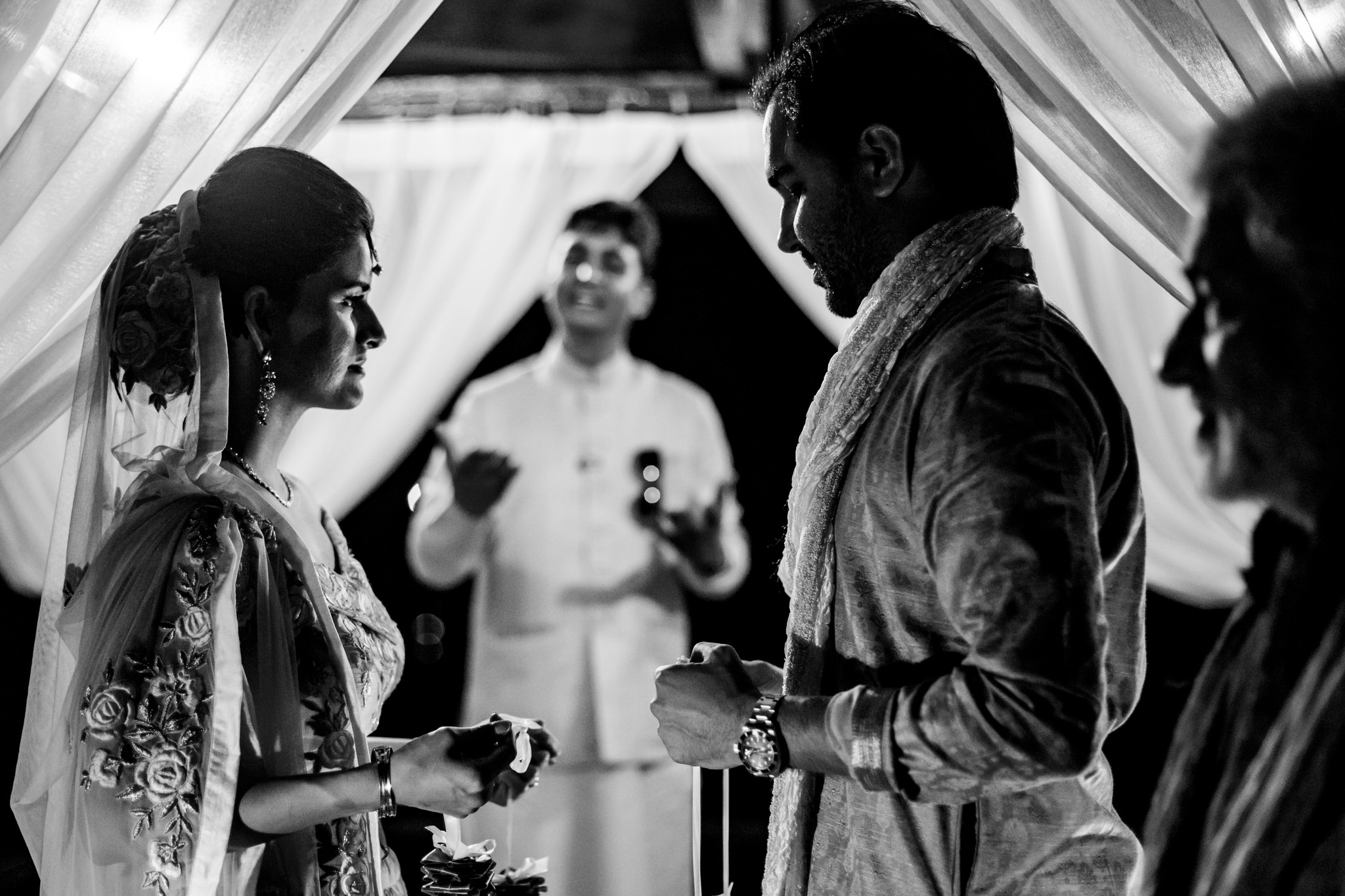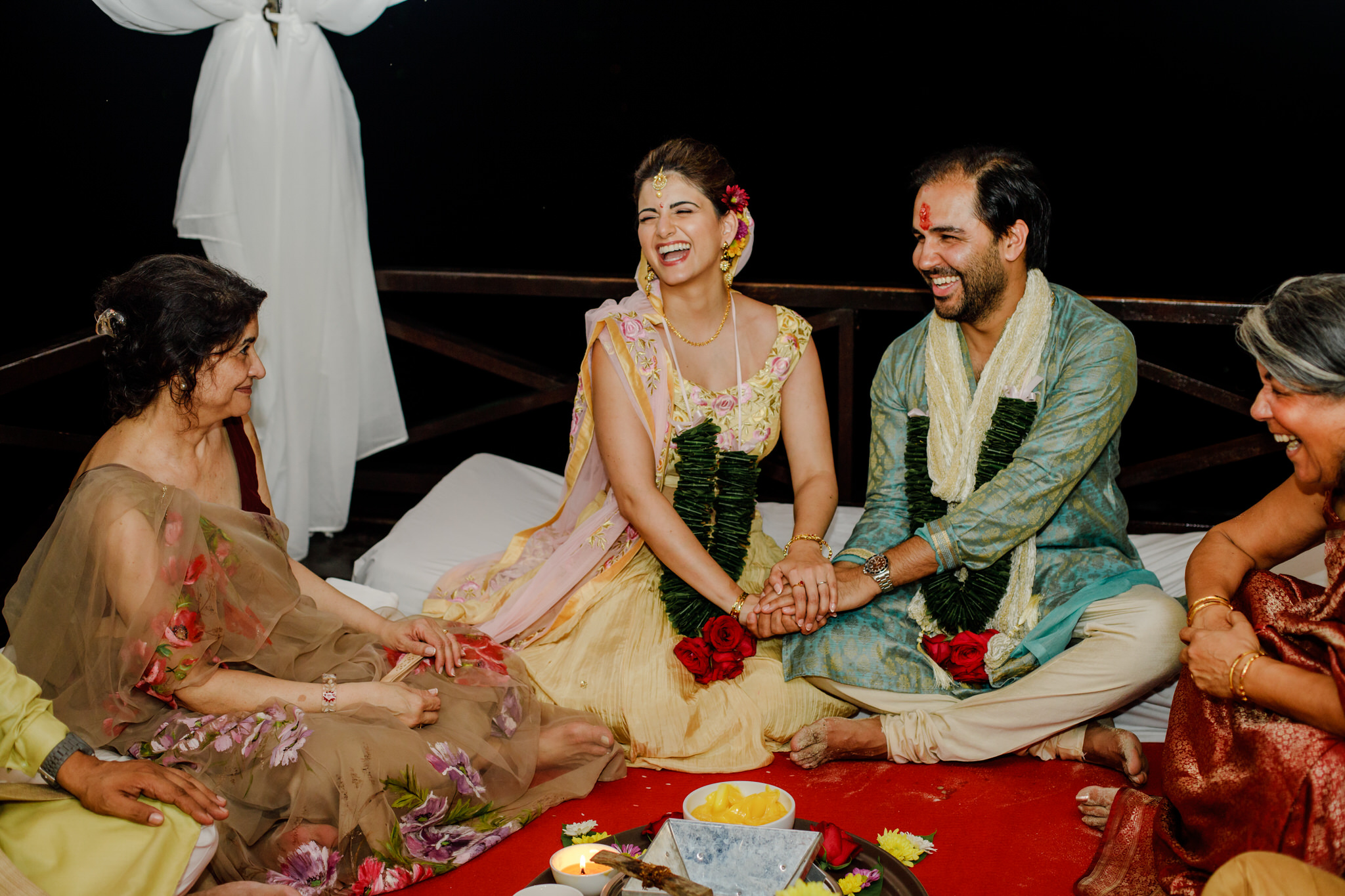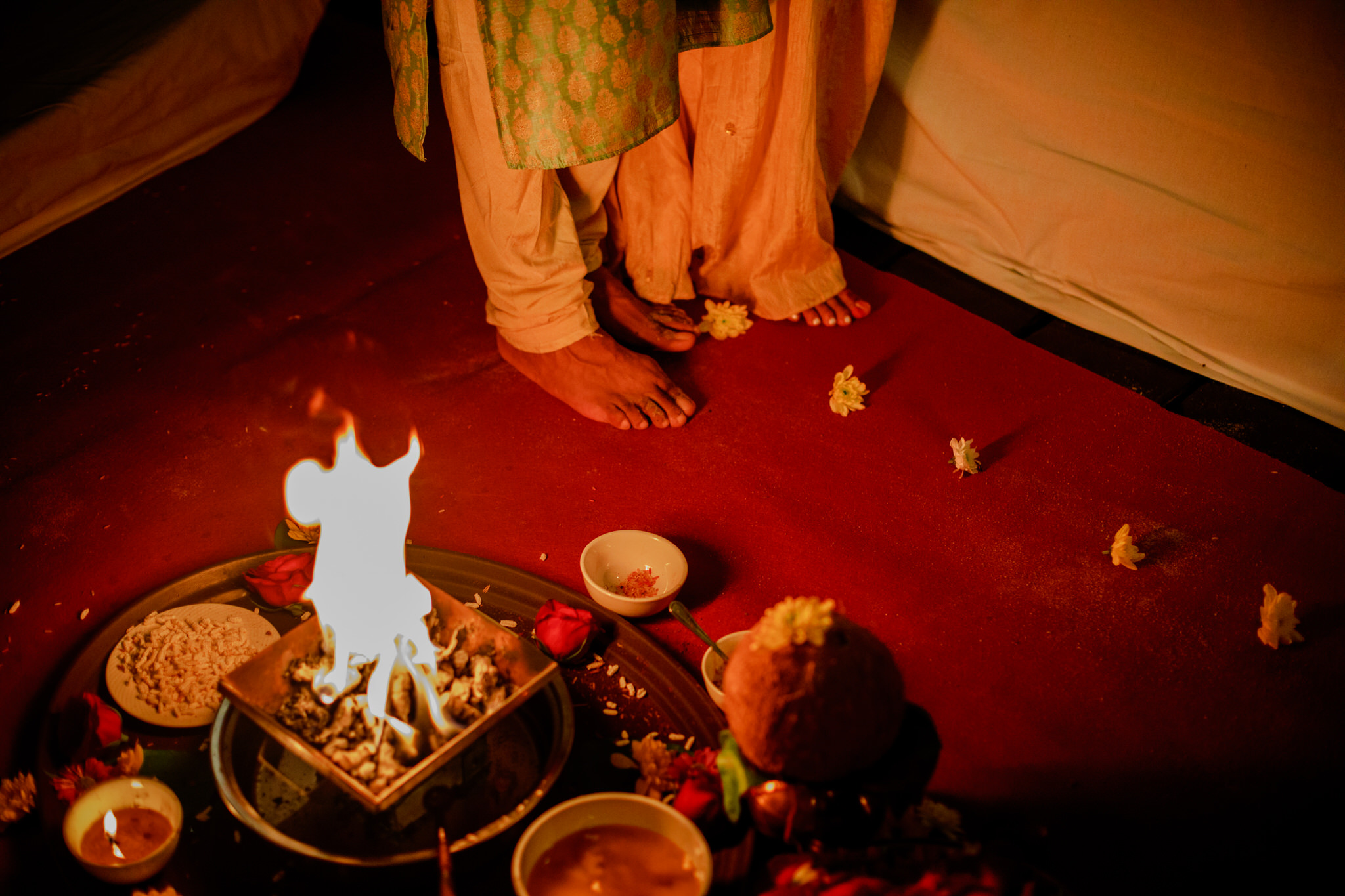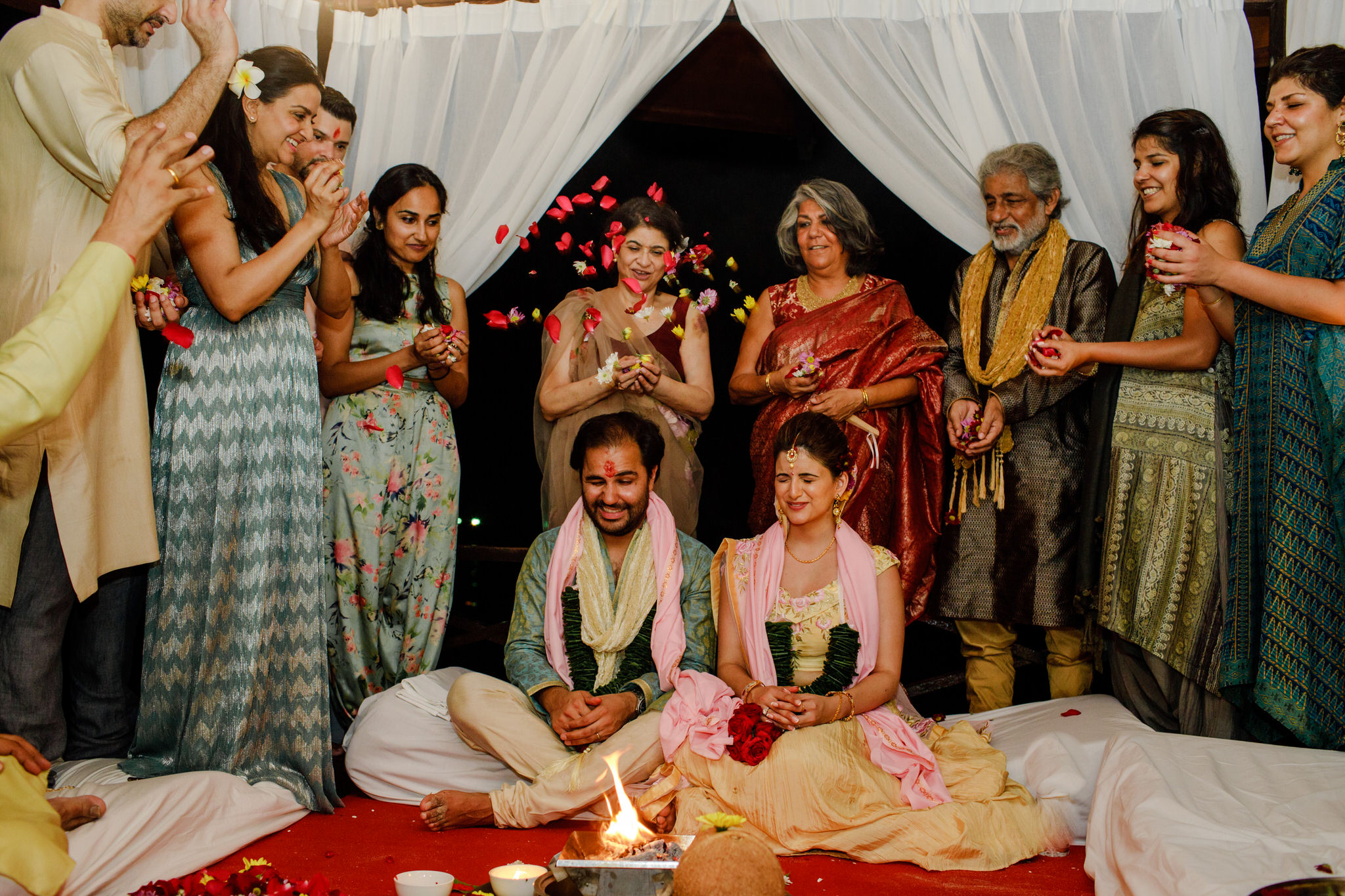 One of Tammy's brothers, Taronish kicks off the sangeet as he starts strumming his guitar. His wife Reena sings a beautiful rendition of Debby Reynolds' Tammy's in Love. Reena's voice is so mesmerising, that Ekta and I go up to her later, saying we are now huge fans. Turns out Reena is the Reena Bharadwaj who has sung one of our favourite songs, 'Yeh Rishta Kya Kehlata Hain' from Meenaxi.
Taronish and Arish (Tammy's other brother) then put up a delightful performance of 'Bare Necessities' which everyone can't help smiling through. This wedding is just turning out to be full of surprises. And there is more in store.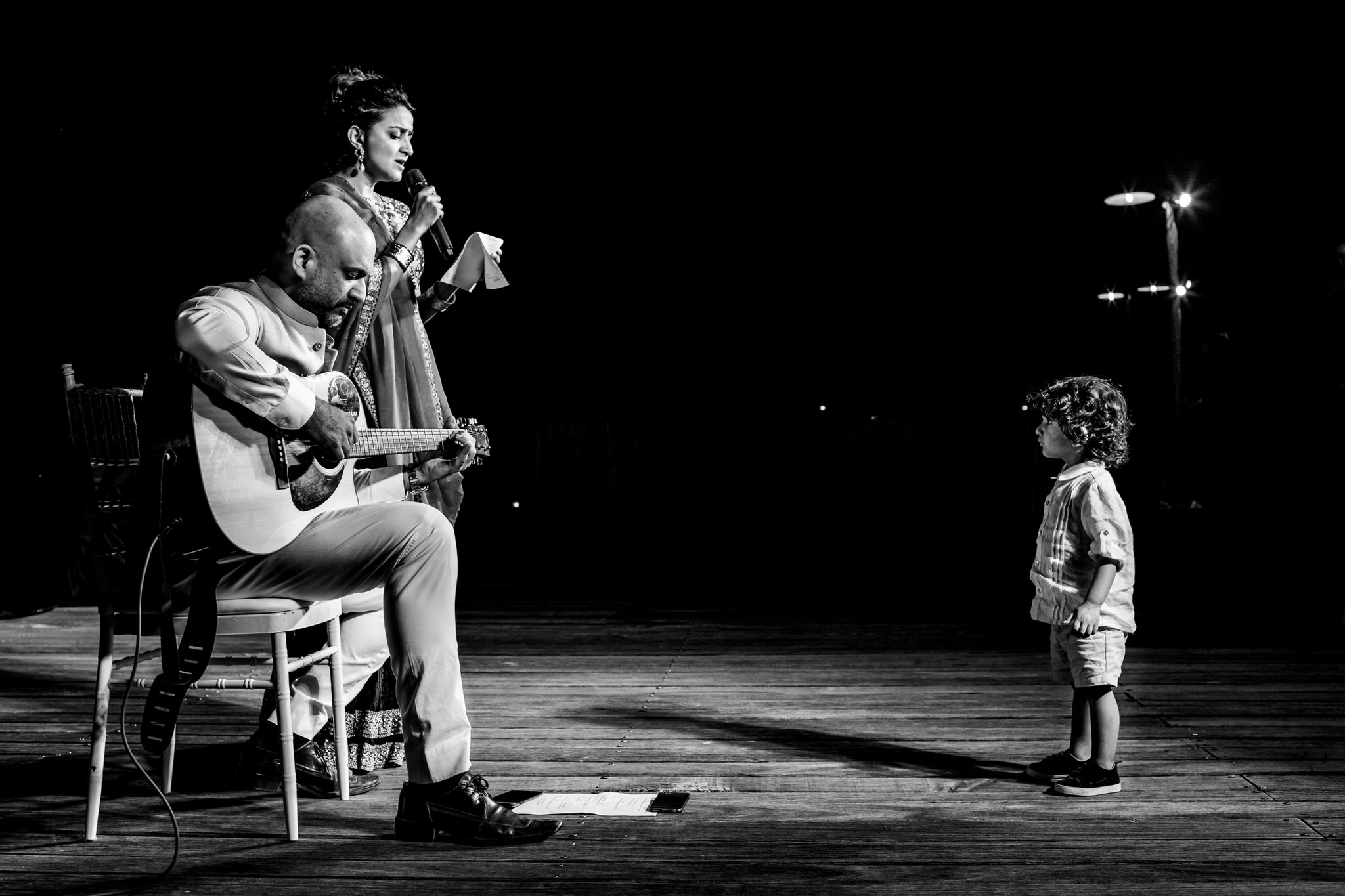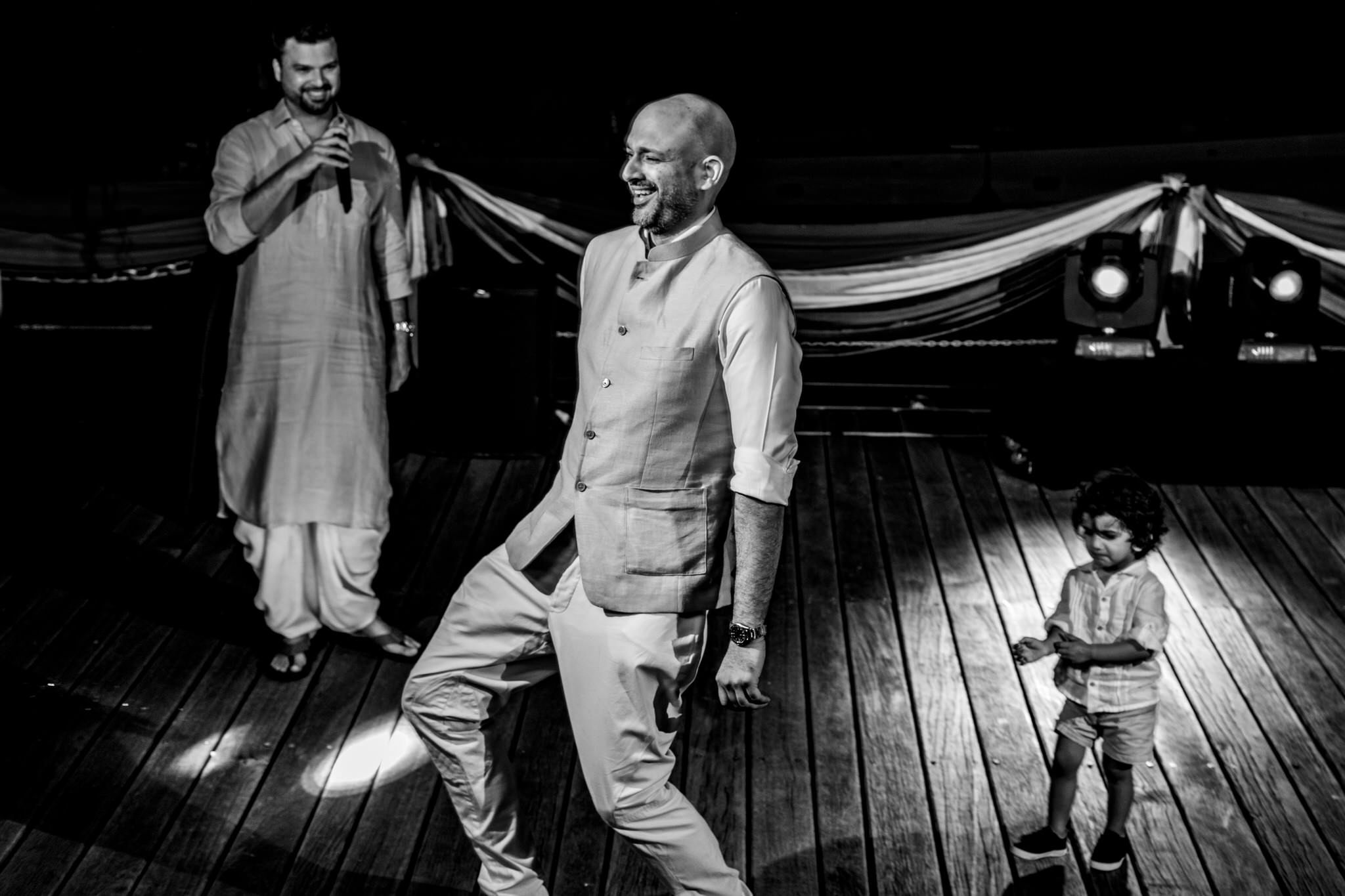 Turns out that Tammy is a huge Peter Andre fan, and her all-time favourite song is 'Mysterious Girl'. After Tammy surprising Kartik with a fake bride, and then both of them surprising their guests, it's Kartik's turn to spring a surprise on Tammy. He dances to her favourite song - of course he had to have his shirt off.
And then everyone danced, and danced, and danced, and kissed, and danced. Be sure you scroll to the end to watch their wedding film.
The Wedding Film
Watch all the moments we've mentioned in our photo story, and then a lot more!